Services
Winterhalter Music Offers:
Private Lessons in Your Home
"The kids really enjoy learning piano from you, and you have built a wonderful rapport with them over the years."
Anjali Prakash
Winterhalter Music offers personalized, private music lessons to students of all ages and ability levels — from beginners to pros. Our teachers come to your home, which helps students feel comfortable and most at ease. In-home lessons also give parents the flexibility of listening to the lesson, relaxing during that time, or carrying on with regular household activities. No more sitting in traffic on the Beltway! Instead, gain extra time at home, all while your child learns from one of our skilled instructors and creates beautiful music for you to enjoy.
Students are matched with the Winterhalter Music teacher whose teaching style and availability best fits their own.  Our warm, talented teachers tailor lessons to fit each individual student's unique learning style, personality, and interests. Not only are lessons fun, positive, and encouraging, but students also learn to play their favorite music of any genre. Lessons are typically 30 minutes in length, though many students decide to take a 45 minute or hour long lesson. We also offer 15 minute lessons for our youngest students.
Winterhalter Music currently offers instruction on the following instruments: piano, bass guitar, clarinet, flute, guitar, oboe, saxophone, trumpet, trombone, tuba, violin, viola, and voice. Read our FAQ for more information or contact us to inquire about lessons.
Recitals
"The recitals are well organized and inspiring for kids starting off."
Ursula Pfeil
Winterhalter Music holds recitals twice a year, usually in December and May.  Our recitals are fantastic opportunities for students to share with family and friends their musical progress and passion for music that is fostered in our lessons. We offer recitals at no additional cost and encourage students of all ages and ability levels to participate.
Like our lessons, Winterhalter Music recitals are fun and relaxed celebrations of music in many different styles and genres — from Beethoven to Beyonce to The Beatles. Many students choose to perform pieces from our arrangements catalog. After working hard to practice and master the piece that they selected, students feel a great sense of pride, accomplishment, and confidence as they perform for an audience. Watching other students play and sing and noting their collective progress from one recital to the next inspires all of us to learn and love music!
Watch student performances on our testimonials page.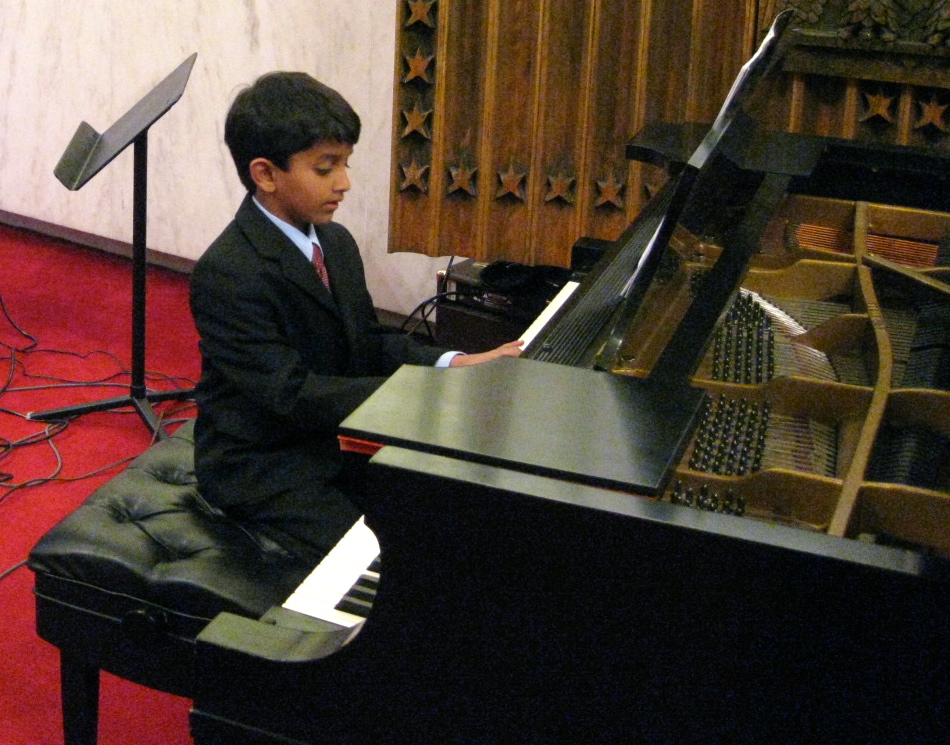 Personalized Arrangements of Songs
At Winterhalter Music we strive to instill a lifelong love of music with each of our students. All too often, students eventually quit learning an instrument because their teacher does not allow them to play music they enjoy. We not only allow, but strongly encourage and teach our students to play their favorite pieces. When students enjoy the music they're playing, they are even more motivated to practice and improve.
In fact, our talented and devoted teachers often create personalized "arrangements" of the songs their students want to play. Since the music available in stores is almost always intended for more advanced students, we re-arrange, or re-write the songs to each student's appropriate level.
Here is an example of the work our instructors do. A student recently wanted to learn "Love Story" by Taylor Swift.  We took the existing advanced music: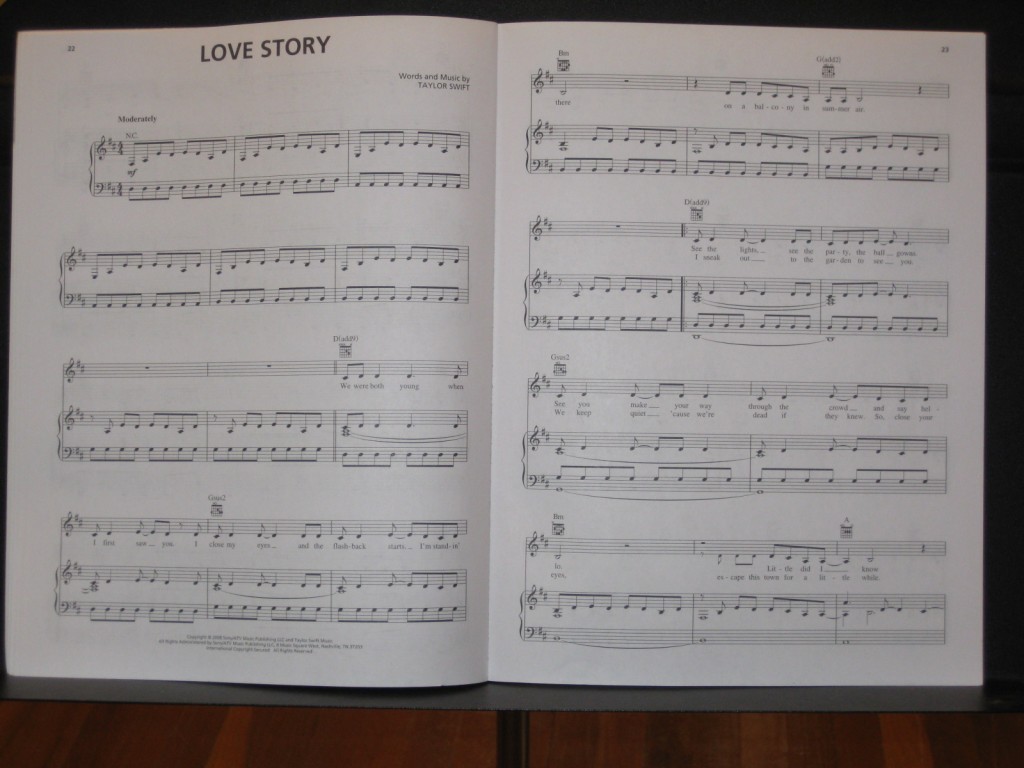 and arranged it for the student's current level.
By using professional music software, we are able to capture this arrangement in our extensive catalog so it can be used in the future by any of our students.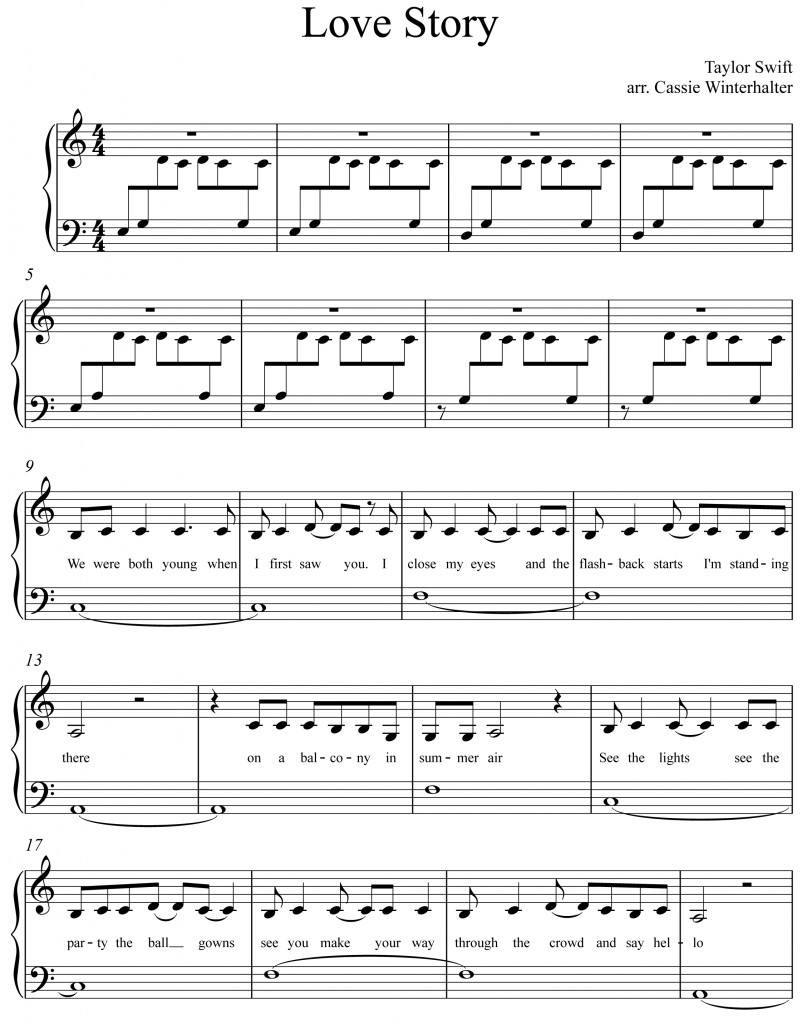 Thanks to our dedicated teachers and our growing catalog of arrangements, all of our students are able to play music they love.
Live Musical Entertainment
Winterhalter Music offers the perfect plethora of high quality live musical entertainment for your next party or event. We can arrange any type of musical ensemble, from background piano music for an intimate dinner party to a small group instrumental ensemble for a larger event, or even birthday party entertainment for children!  We take care of all the logistics and scheduling.  You'll receive numerous compliments from your guests while you relax and enjoy beautiful music at your own event. Don't hesitate to contact us for more information, rates, and availability.