Testimonials
I had no idea if my boys would be any good at playing the piano; if they would enjoy it all; if it would be another chore for me to nag them about. Our teacher Patricia is terrific, and my boys really like the recitals. My younger boy actively picks out songs he likes to play for the recitals and I can tell he's listening to music more carefully. Their lessons have provided a new area for them to explore, a way of teaching themselves something independently, and a new way of thinking and expressing themselves. The teachers are excellent and the progress of my boys has been most satisfying.
Kent Holland, Partner at Plesser Holland Public Relations
www.plesserholland.com
Chevy Chase, MD
The convenience of having Cassie come to our home and her willingness to work around the other many activities of our family is great. While she makes music a priority she is very respectful of other commitments in our lives. She is a wonderful and gifted teacher, always encouraging and never admonishing. She manages to connect with both of my (very different) children and bring out the very best in each of them. My daughter, for years, was painfully shy. She will now perform flute and piano at school and recitals without hesitation. Her instruments have become a means of expression and a vehicle for growth and connection with her peers and school community. My son has become much more curious about different genres of music and will often go to the piano as a way to relax and express himself during times of stress. I get so many compliments on how beautifully he plays from teachers, friends, and, during the summer when the windows are open, even the neighbors!
Our house is filled with music and so much more joy, thanks to Cassie!
Huda Montemarano, Physician
Bethesda, MD
Kate performing "Ode to Joy" at the recital.
Great teachers. In-home lessons. Great books and comfortable pace of lessons.
Winterhalter Music came highly recommended by colleagues whose kids had learned from teachers at WM and benefitted from it immensely. My daughter has finished the primer in just three months. Her ability to focus and work hard on a piece of music are also increasing, albeit slowly. Patricia is a great teacher and is very patient. Also, the ability to take classes at our home has allowed me to take lessons as well, which would not have been a possibility otherwise.
I hope my daughter and I will continue to play the piano all our lives.
Maliha Ilias, Health Specialist at NIH
Silver Spring, MD
A sister voice and piano duo performing at a school benefit concert.
My daughter started taking lessons at age 5 and did not have any musical experience prior to taking lessons with Cassie. In the past 2 years she has learned to read music and play the piano and have an overall knowledge and appreciation of classical music. The professional, courteous and patient instructors work on her level and in a way that is fun. I have recommended several people to Winterhalter Music and the people I have recommended are happy with the results.Terry Kaprielian, Stay at home Mom of 3
Potomac, MD
"I Heard it Through the Grapevine" performed on the guitar and sung by a Winterhalter Music student.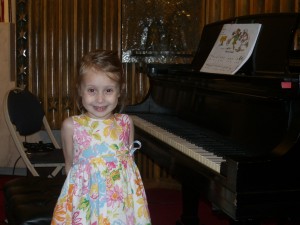 My daughter was very young, just under 4, when she started lessons with Winterhalter Music. Other teachers had told me that she was too young to focus during a lesson but she had been asking for lessons for a year. We tried a different music company first but the teacher had no capability to teach at her young level and she ended up in tears. In stark contrast, Winterhalter music embraced her and her age and her teacher (Patricia) has done an excellent job at pitching the lessons to her maturity level. My daughter continues to be interested in music — she loves playing the piano and would also like to take up drums and the violin. Her teachers tell me at her preschool that she's organized a band and instructs the others on coordinated dances. Certainly, her piano lessons have helped to foster this continued interest. Her love of music has reminded me of my own and I'm determined to start playing violin again. The company is very well managed and Cassie has been very easy to work with. The recitals are well organized and a good opportunity for the students to gain confidence.
Melissa Johnson, State Department
The teachers come to your house, and the recitals are such a nice event. My son really enjoys his piano lessons and we are really happy with Liz. He is developing a continued love of music and interest in other music activities such as chorus and the musical.
Louise Gaskin
Bethesda, MD
"Hail to the Redskins" performed by a student at a recital.
My experience with Winterhalter Music and Cassie has been wonderful. She has been so easy going, and happy to try to accommodate changes in my children's schedules. She is extremely patient and has a very kind manner with children, especially those new to an instrument, so the children feel completely relaxed and safe while trying something new. Cassie is very smart in how she teaches – she picks up on the music that personally interests each student, and uses it to her advantage in lessons. My oldest daughter (age 9), for example, loves Selena Gomez. So Cassie asked her which songs she liked best, and the next lesson she brought her several sheets of Selena Gomez's music for her to try playing.
My daughter LOVES that she gets to play the music she enjoys.
And finally, she let my daughter also compose her own "music" and name her own song, so that she was involved in the whole music process. My oldest has been such an example to her family that now her little brother (6) and her little sister (4) are also taking piano! And they practice on their own, too!The recital piece has been huge in developing skill, confidence, and self-esteem as the preparation and practice involved teaches dedication. Winterhalter Music makes it fun. How wonderful for these children, of all ages and skill, to come together and perform for each other and each others families! There is nothing like seeing your child progress year after year with an instrument. I love listening to all three of my children play… the three different levels, and seeing their progress from week to week as they work on their music. It has been a terrific experience for our family.
Jean-Marie Fernandez
Potomac, MD
Jade has been doing wonderful work with our daughter and we are all so pleased – I can't say enough good things about Jade!Happy Parent, Arlington, VA
Joyce Lim has taught our two children for almost two years. They have progressed beautifully in the encouraging and positive environment Joyce provides for them. She is patient and understanding, and sets realistic goals. The recitals have been a tremendous confidence builder and motivational tool. Both of my children are more aware of music in their lives and are also interested in learning more instruments and leaning more. We have enjoyed seeing Joyce on a weekly basis over the past year and a half.Carla Ammerman
To see some of the questions these parents and students had before deciding to start lessons with Winterhalter Music, click here.