Winterhalter Music Teachers
Joyce Lim
Piano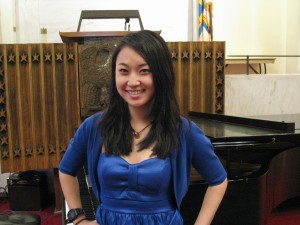 Joyce has been playing piano her whole life! She believes in the power of music, laughter, and well made sandwiches. Joyce also enjoys hiking, art history, and seeping her tea in milk. Her favorite classical composer is Frederic Chopin but her favorite jazz pianist is Oscar Peterson. Joyce has unconditional love for the Washington Redskins and loves the success of the Washington Capitals as well. She loves taking walks with her dog, Sadie, and loves making friends. Joyce loves teaching for Winterhalter Music Studio! She believes in all of the teachers and feels blessed to have such talented and hard working students! She enjoys helping students develop their skills and confidence in order to play to the best of their ability! She loves it when students show that they work hard and ask questions. She also enjoys it when families and get involved to learn about music. Learn more about Joyce in her teacher showcase post on our blog.
Elizabeth Tyree
Piano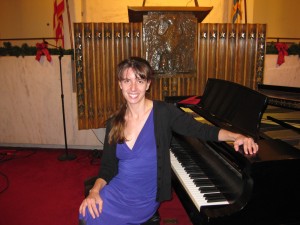 After completing a Bachelor of Music from Shenandoah University and a Master's of Music from University of Louisville, both in music composition, Elizabeth Tyree returned to the beginning of music, the teaching of piano lessons. In her home town Virginia Beach, VA, Tyree started teaching piano lessons and theory class at age 17 under the supervision of her own piano teacher, Ella Drew. In every piano lesson, Tyree continuously learns that each student is unique and responds differently to teaching style and structure. Tyree adjusts her teaching technique to fit the students' needs while encouraging every student to read music, play rhythm, play by ear.  She also teaches scales, the basics of improvisation, and how to practice effectively. Presently, Tyree is studying the stages of child development as she chases her one year old around the house and is writing piano songs for her own piano method book. Learn more about Liz in her teacher showcase post on our blog.
Michael Coan
Guitar and Piano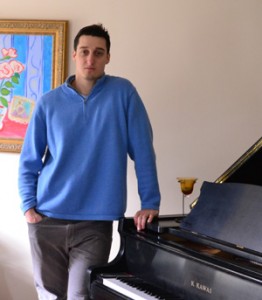 As a trained musician who studied music at the University of North Florida and who has plenty of professional playing experience, Michael Coan offers a unique approach to teaching guitar and piano. Michael has played in numerous groups from big jazz bands, to small jazz combos, to rock and blues bands throughout the Florida and Washington DC area. Michael is a young and enthusiastic teacher who understands the importance of making music fun- something students look forward to every week. Whether it be classic rock, pop, or jazz, Michael has the knowledge and experience to accommodate any student's interests. Learn more about Michael in his teacher showcase post on our blog.
Darrin Burrell
Flute, Piano, Guitar, and Trumpet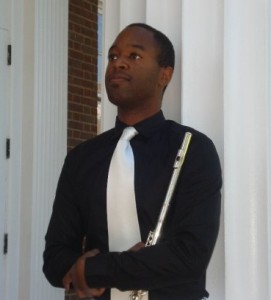 A northern Virginia native, Darrin Burrell discovered his passion for the arts when he was very young, acting in his first play at age four, and beginning music classes in school at age five. Darrin has been playing flute for over 13 years. He found early on that he wanted to pursue a career path in music, which led him to study at Greensboro College in North Carolina. During his college studies, Darrin was fortunate enough to travel overseas to study at the University of Hong Kong in 2008, an experience which changed his life and musical perceptions greatly. In 2010, he graduated Magna Cum Laude from Greensboro College with a Bachelor of Arts in Flute Performance and a minor in International Studies. After graduating, Darrin returned home to northern Virginia and began teaching private lessons. Darrin largely considers himself a Jazz musician, but he also greatly enjoys listening to and playing Classical and International music. In his free time, Darrin also enjoys playing basketball, reading, and learning new languages- currently taking on both Russian and Spanish. Learn more about Darrin in his teacher showcase post on our blog.
Billy Chou
Piano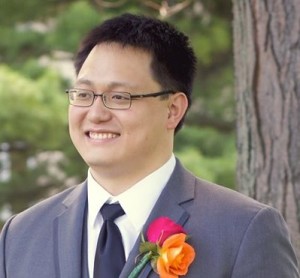 Billy hails from New Jersey and has been playing piano for over 20 years. Initially very shy about his musically abilities as a youngster, once Billy hit high school he found that he had a deep love for music (so much so he became a band geek and was drum major for his marching band in his senior year). He completed his Bachelors in Music Education from Ithaca College on piano and he also studied percussion during his time there. A few of his favorite piano composers are Bach, Beethoven, and Chopin, and he is also very fond of the music and piano playing of jazz great Bill Evans. Currently Billy lives with his wife (who is a cellist and teaches orchestra) and his cat, Felicity, who runs away every time Billy starts playing the piano. Learn more about Billy in his teacher showcase blog on our website.
Jeff Lee
Piano and Guitar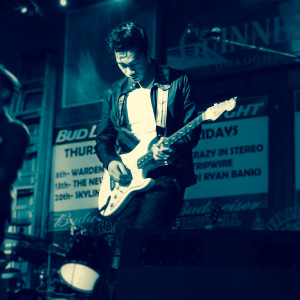 Jeff's passion for music has pushed him to pursue stardom with his pop/rock band, Skyline Hotel. He began a love for music very early in his childhood starting with violin at the age of 8. He then was classically trained in piano starting at the age of 9, and has been playing piano ever since. Jeff has played guitar for over 10 years now ever since he discovered rock legends Jimmy Page and Eric Clapton. In high school, he taught music lessons at Best Buy's Musical Instruments department and has been doing private lessons since. It brings Jeff much joy to witness and inspire a love for music in his students. In 2014, Jeff graduated with Latin honors, Cum Laude, from the University of Maryland College Park. When Jeff is not teaching guitar and piano or working at a physical therapy clinic, he devotes all his time to his band playing shows in the DMV area, recording and producing new songs, and managing the band. www.skylinehotelmusic.com Learn more about Jeff in his teacher showcase blog on our website.
Jairo Chavez
guitar, clarinet, sax, flute, oboe, and piano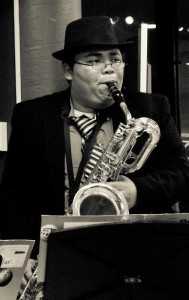 Jairo is a music student at George Mason University who has been teaching saxophone, clarinet, trumpet, and flute in the area for two years. He attended Northern Virginia Community College where he received an Associate's in Music. Jairo is now at George Mason working towards getting a bachelor's in Instrumental Music. Though he focuses mainly on classical sax, Jairo is also well versed in jazz and other pop styles. He has been playing saxophone in the DC area for six years, playing with groups such as the American Balalaika Symphony Orchestra, the Mount Vernon Community Swing Band, and is one of the founding members of the Northern Virginia Saxophone Quartet.
Doug Ross
bass guitar, guitar, and piano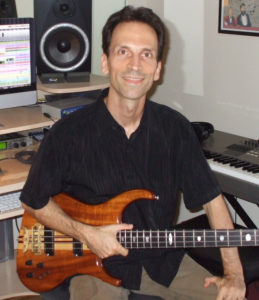 Doug Ross has traveled an adventurous musical path around the world, from the Caribbean to Asia and all over the U.S. After winning awards in high school bands, he was encouraged to head to Hollywood for intensive study with bass greats Gary Willis, Jeff Berlin, and Steve Bailey at the Bass Institute of Technology. Since graduating with honors from B.I.T, Doug has continued to stretch himself musically, playing thousands of gigs and recording sessions all over the world with diverse artists such as jazz guitarist Jody Fisher, Motown legends Martha Reeves & the Vandellas, Brazilian singer Katia Moraes, and rock drummer Gregg Bissonette, to name a few. In 1995, a tour as bassist for Fantasia Musical Circus led to a seven year residence in Japan, including four years heading the bass program at Fukuoka School of Music, one of Japan's largest music colleges. In 2002, Doug uprooted himself once again and set off for Los Angeles. He spent the next thirteen years teaching at Los Angeles College of Music (formerly LAMA), performing as a sideman and bandleader, and releasing a solo album in 2007 on Egad records. At LACM, Doug had the privilege of teaching alongside many of LA's finest musicians, including Tierney Sutton, Frank Gambale, Jerry Watts, Ralph Humphrey, Andre Berry, Joe Porcaro, Carl Verheyen, and Tim Landers. Now, after a twenty year absence, Doug has returned to his hometown of Washington DC, making many new musical connections, in addition to re-establishing old musical friendships. Recent performances with local artists like Daryl Davis, Jaared Arosemena, and Steve Herberman have presented fresh challenges. Time for some more stretching out!
Ethan Greene
voice and piano

Ethan Lee Greene is a vocalist and teacher of voice and piano in the Washington, D.C. Metropolitan area. Mr. Greene's hometown is Hamlet, N.C. He is an active performer with opera companies around the area such as Washington National Opera and Bel Cantanti Opera. He also maintains a choir position at the Basilica of the National Shrine of the Immaculate Conception. Ethan Greene is a dedicated voice and piano teacher, who enjoys giving instruction in a diverse range of styles. He teaches at Music & Arts, Winterhalter Music, and also runs his own private teaching studio. Mr. Greene received his Bachelor's in vocal performance at Wingate University and recently received his Masters in Music in the University of Maryland's Opera Studio.
Brendan Schnabel
sax, clarinet, piano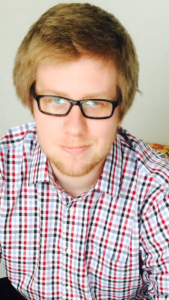 Brendan is a professional saxophonist, woodwind doubler and music educator based in the Greater DC area. Pursuing music for him has been a transformative and rewarding experience, and his goal as a teacher is to convey that same feeling to his students, no matter what their skill level may be.
Brendan's journey with music began in 6th grade, playing alto sax in the middle school band in his hometown of Chesapeake, VA. By the next year, he was studying privately. In high school he was selected for All-District Band and All-Virginia Band. It was at this time that he also developed a passion for jazz, and was selected for the All-Virginia Jazz Band.
Brendan continued to pursue music in college, earning his Bachelor of Music in Saxophone Performance/Jazz Studies at Virginia Commonwealth University in 2013. During college, he began his professional career, both as a performer in various venues and events, and as a private lessons teacher at a music store. He moved to the Greater DC area in 2014, to pursue his Master's Degree in Music from the University of Maryland College Park. He also took on a graduate assistantship during his time in grad school, teaching a jazz combo, co-leading a big band, and running a weekly jam session. Throughout all of this, he has maintained a performing schedule that has taken him to cruise ships, clubs throughout the East Coast, and South Africa.
Brendan graduated with his Master's this past May. His most recent professional activities have been accepting a position as Adjunct Professor of Woodwinds at the University of Maryland Eastern Shore, and recording his first album of original compositions as leader
Kaylee Lindahl
voice and piano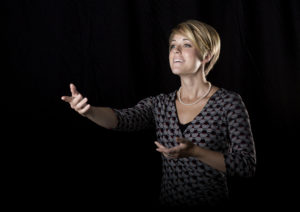 Born and raised in Colorado, Kaylee has been singing since she could talk! She performed in her first musical when she was five years old and her love of music never stopped. Her favorite roles include Millie in Thoroughly Modern Millie, Mary Poppins in Mary Poppins, and Jo in Little Women. She has performed with the Honolulu Symphony Orchestra, and toured multiple times with the Brigham Young University – Hawaii's Concert Choir to Australia, New Zealand, and Japan. She received her Bachelor of Arts in Vocal Performance with a minor in Chinese from Brigham Young University – Hawaii. She loves to travel and share her love of music with children of many different cultures. Her favorite teaching experience was teaching music to a group of 10 year-old girls in a small village in Thailand. Kaylee recently moved to the DC area with her husband and their newborn baby. When she is not taking care of her baby or teaching, she loves to do yoga, tap dance, and explore new places.
Gray Dickerson
violin, viola, and piano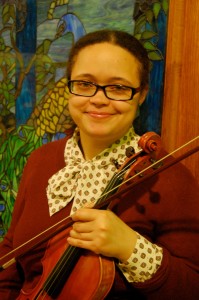 Gray Dickerson is a recent Master of Music (2015) as well as a Master of Library Science (2012) both from University of Maryland. She has played piano for the past 20 years. As a violinist Ms. Dickerson has been Principal Second Violin of the Prince George's Philharmonic for the past five years, as well as subbing for the Fairfax Symphony Orchestra, and playing gigs of various types in the DC-Metro Area.
Maddie Watson
violin and piano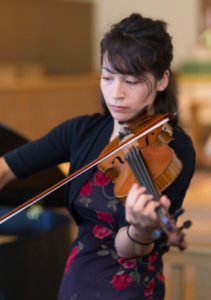 Maddie Watson is a graduate from the University of MD, College Park, where she received her bachelor of music degree in violin performance. After starting violin lessons at the age of eight, she quickly developed a love for music and knew that she wanted to always be able to share her passion for music with others. Maddie has also played the piano for most of her life, having started taking lessons when she was six years old. She is currently a tenured member of the Maryland Symphony Orchestra in Hagerstown and teaches both violin and piano lessons to students of all ages. Maddie also contracts and performs for many weddings, parties, and other events in the DC metro area. In addition to teaching and performing, Maddie enjoys a variety of activities such as hiking and camping, baking complicated dessert recipes, and reading mystery novels.
Matthew Larson
trombone and piano

Born and raised in northern Virginia, Matthew has been playing both piano and trombone from the age of eleven. He began teaching in high school and it has been a part of his life ever since. Currently Matthew is working on a degree in music performance at the University of Maryland. He has a diverse performance history from classical to jazz to rock. He has performed in many notable locations such as the Kennedy Center, the Strathmore, Ram's head, and sound stage. Matthew is passionate about music education; he believes that teaching music offers a unique opportunity to provide children with valuable life lessons in a fun low pressure environment. He believes learning music helps children develop self-confidence, teaches dedication, self-expression, and practice strategies that are useful across a broad variety of situations. To ensure each student flourishes, he carefully caters his teaching methods to each individual.
Paul Langosch
double bass and piano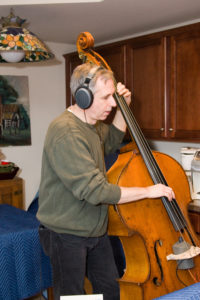 Paul Langosch began his studies in double bass in 1969 with Albert Webster of the National Symphony and later continued private lessons with William Vaughan, also of the National Symphony. In addition to studying classical bass, Paul also took lessons from the great jazz bassist, Ketter Betts. He began his college studies at Montgomery College in Rockville, MD, before attending American University in Washington, DC and University of Miami in Coral Gables Florida. Along with his bass studies, Paul had the honor of studying piano with the late jazz pianist and Professor of Piano at the University of Maryland, Ron Elliston. Paul has worked with many of the leaders in the jazz world including: Phil Woods, Tal Farlow, Al Cohn, Mose Allison, Johnny Hartman, Bud Shank, Zoot Sims, Barney Kessel, George Benson, Charlie Byrd, and Herb Ellis. Paul's touring credits include tours with Jon Hendricks, George Shearing, Rosemary Clooney, Mel Torme, Susanna McCorkle and Conte Candoli. In 1985 Paul was invited to by Tony Bennett to become a permanent member of his trio. His association with Mr. Bennett lasted over 20 years and included performances on 10 CDs, appearances on many Television shows and specials and countless touring dates. Included in these were multiple tours in Japan, South America, Europe, Great Britain, and Australia. Since retiring from touring with Tony Bennett in 2008 Paul has been working with artists such as Michael Feinstein, Christine Ebersole, Mary Ann Redmond, Middle Eastern Music virtuoso, Simon Shaheen as well as Kurt Rosenwinkel.